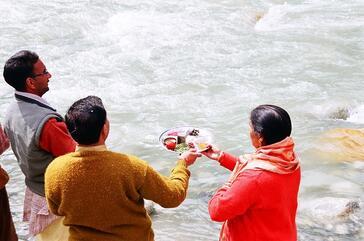 Pooja is offered to Maa Ganga on every day for attaining happiness, prosperity, salvation, peace and moksha. It purifies the souls of the devotees, absolve sins and turn them into good such that it helps in liberation of the souls of ancestors too.
Book
Abishek to Ganga Maa is a special ritual that can be performed by the devotees to fulfill their desires. It is believed that offering Abhishek to Goddess Ganga brings happiness to the life and success in the career or business. It also cures the diseases and aliments.
Book
Gangotri is the best place to perform Dosh Nivaran pooja for Dosh like Manglik Dosh, Kalaa sarp yug Dosh, Pitru Dosh and more. As Ganga maa have the power to purify the souls and remove the sins, Dosh Nivarn pooja helps to remove your any kind of dosh at Ganga maa feet.
Book
Our Mission
To Bring Ganga Pooja Available to Everyone
Ganga is one of the most important rivers among seven holy rivers of Hinduism. Performing prayers to river Ganga is considered as highest form of rituals in Hindu tradition. However, Gangotri the birth place of river Ganga is located in the Greater Himalayan Range which is not easily accessible. Considering the holiness of the place, it's everyone's dream to offer pooja to Ganga maa at Gangotri, but the dream comes true only for few. We tend to provide online facilitation for those by sharing their Names, Gotra & Family details, so that Gangotri pandits can perform pooja on their behalf, until it is time for personal visit.
learn more
Poojas and Rituals at Gangotri
Ganga Pooja is the most Important Ritual in Hinduism
Aarti & Ganga pooja performed at Gangotri Temple by the group of priests staying in the Gangotri valley. The day begins with Morning Mangal Aarti, Ganga Devi Pooja followed by rituals & ends with Sandhya Aarti. Mangal Aarti is performed at early hours in the morning inside the temple with closed doors. Ganga Devi pooja is held at banks of Ganga River & the temple as well, this pooja has a great importance as it is performed on saptami day. Sandhya Aarti is offered to Ganga maa in the evenings, when the last sun rays of the day fall on the waters of Ganga.
learn more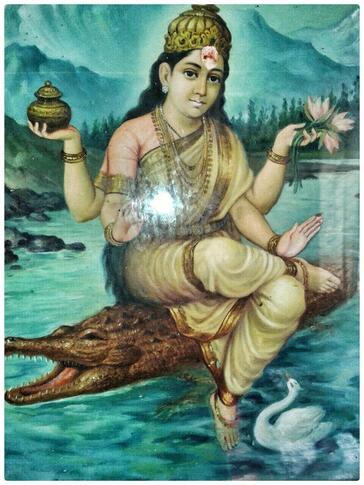 Ganga Aarti
It is believed that Godess Ganga descended to earth from the heaven to wash the sins of the humans and to provide salvation, peace & moksha to the people on earth. Ganga Aarti is a ritual performed at the Ganga river bank to worship Maa Ganga by lightening 51 to 101 wicks soaked in ghee or oil & camphor. Attending and performing Ganga Aarti in the evening gives peace of mind, and brings prosperity and happiness to your lives. We are the pandits who perform Ganga Aarti daily at Ganga Maa and pray for you and your family. You can reach us on our phone and give your details. We pray for your family health and wealth.
learn more